Plan Your Tour
During NH Open Doors, New Hampshire artists, craftspeople, cultural organizations, retail shops, wineries, restaurants, lodging establishments and businesses will open their doors to you, showcasing the best that New Hampshire has to offer. Plan your weekend adventure in advance or use these resources as a guide on your tour.
Use the Google Map
Use this map to see the locations of every participant of this year's NH Open Doors. Use this to plan your tour ahead of time, or use it on the road to navigate to each location. See directions below for more information on how to use this map.
View Google Map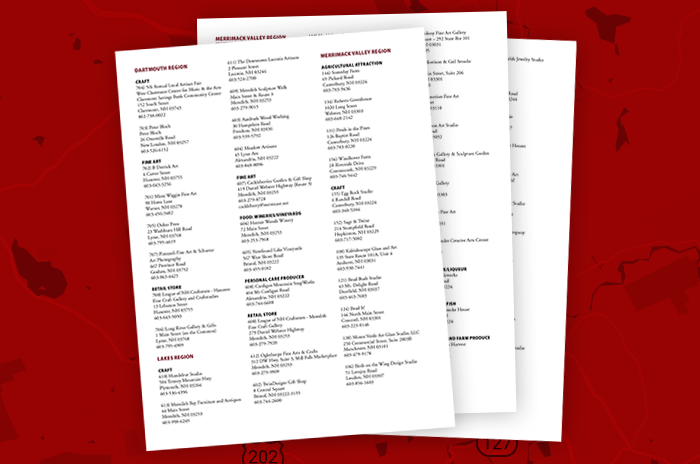 Download Participant Listings
Download or print out this listing to get a quick overview of this year's NH Open Doors participants. This document is an easy way to plan your tour and to have the exact locations of each participant at your fingertips during your travels.
Coming Soon
How to Use The Google Map
To Move Around the State: When you first open the map, you will see the entire map of NH highlighted with each "pin" indicating the location of a NH Open Doors participant. To see a section of the state, use the directional arrows on the map to move you N, S, E or W or use the up-and-down scroll bar located right below the directional arrows to zoom in on a location or zoom out.
To Find a Specific Participant: On the left-hand side of the map is a list of all NH Open Doors participants by business name in alpha order. Scroll down the list, click on the business name you want, and the map will take you to its exact location along with an address and a link for driving directions.
To Get Driving Directions: At the bottom of each participant listing on the map is a link for "Directions." It will ask you to type in the street and town address from where you are starting.
To Print Directions: Once you have located a participant or a section of the state that you want to visit, select "Print" logo located on top right edge, which is located along the very top edge of the map. Be sure to only print page 1, otherwise you will be printing all of the participant listings along with your map. You can also hit the Envelope icon button to send directions to an email address.
Color Key Code for Google Map Pins
Red = Craft
Purple = Food/Beverage
Blue = Products
Teal = Stores
Yellow = Fine Art
Bed = Lodging
Fork + Knife = Restaurant
Flower = Attractions/Farms